 Doris Lozada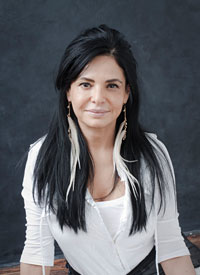 Growing up in the Andes of Peru, the environment was not a cause for concern. Instead, in those times our concern was our economy. My grandmother, my little sister and my mother cooked simple organic meals with the harvest we grew ourselves. Nothing was ever wasted, everything was recycled. Any leftovers were composted and were then put back into the land as fertilizer. "Growing up in this environment we learned to be frugal with our resources" those were true sustainable times. Years later, we are facing the need to return to our heritage and connection with this universal and natural order, in harmony, to be able to continue a healthy living on this planet.
I had the privilege to live sheltered by a sacred mountain, a river and a luscious forest - humans and the environment as a single system. My family comes from a generation of healers. This bond enables my deep connection with my Peruvian ancestors.
Now living in New York City and having spent the last 25 years of my self-made professional career in the construction industry. In a personal effort to make a positive difference in our environment, I have integrated the reforestation project into my business.
My works have been featured in magazines such as home by design. This year one of my recent projects will be reviewd by green design magazine. I am currently working in a project with Linda Mason, designing. furniture with recycled wood and materials. I am also involved in a few projects using recycled waste materials in the construction of countertops and kitchen accessories.